Home Builder Scheme Extended
The government scheme offering cash grants to Australians for housing construction projects has been extended, but at a lower amount.
The scheme, which was set to end at the conclusion of 2020, has now been stretched to 31 March 2021. However, all contracts signed between 1 January and 31 March will have the grant amount reduced to $15,000, down from the previous $25,000.
While the property price caps for new homes built in New South Wales and Victoria have been raised, the cap remains at $750,000 for all other states and territories.
The eligibility criteria will remain the same; individuals will need to be earning less than $125,000, and couples less than $200,000, while the value of the land and build together cannot exceed $1.5 million (pre-renovation).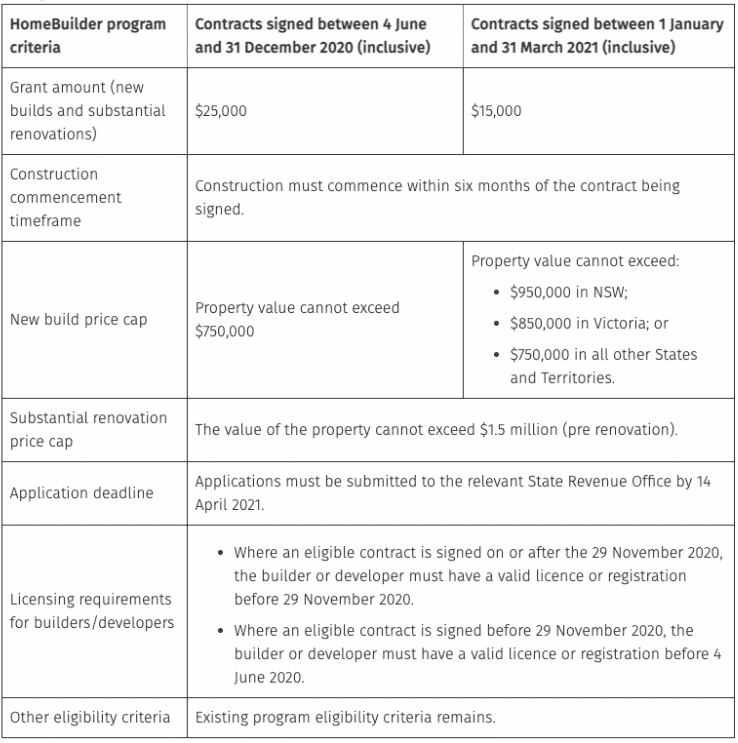 Prime Minister Scott Morrison said that the extension is set to create 15,000 more homes, in addition to the 27,000 homes the scheme is expected to support.
"We're keeping people in jobs and putting Australians' dream homes within reach. Extending HomeBuilder will mean a steady pipeline of construction activity to keep tradies on the tools," Morrison said.
Let us help you find the right lender for your home construction! Use the form below and we will be in touch as soon as possible to discuss your options.
All

First Home Buyers Loan

Home Loans

Investment Loans
When Should I Refinance My Home Loan
WHEN SHOULD I REFINANCE MY HOME LOAN? The big question on everyone's lips "Can I save Money on My Home Loan If I Refinance"? Answer, "ABSOLUTELY! Now what is the best time?" This article predominantly focuses on refinancing as a means of obtaining a better rate.  Other blogs on our website outline scenarios in which
Best Family Gift To Help First Home Buyer
Best Family Gift To Help First Home Buyer Australians are always ready to help each other in times of need and are renowned for wanting to help their children get ahead. One way an immediate family member can assist a child, or a sibling is to give them money as a gift. The reason we
Why Choose Brisbane Home Loans
Brisbane Home Loans is all about good old fashioned personal service without exception.
We Find The Right Deal For You
We take the time to listen to your needs and then search the market for the best products that satisfies your needs at the lowest possible cost to you.
We continue to work for you after the deal is finished, ensuring that we asess any new offers that become available which may improve your current deal.
We give our clients access to Personal Loans, Home Loans, Investment Loans and Commercial Loans.  You always only deal with on person for all your lending services.
How We Work With Our Clients
Testimonials
Being Our First Home It Was Great Having The Knowledge of Daniel & The team at Brisbane Home
We have been working with Daniel and the team at Brisbane Home Loans for the purchase of our first home, being first home buyers it has been great having the knowledge of Daniel & the team at Brisbane Home Loans to support us. We can't thank them enough for their support and making themselves available to answer all of our questions. I'd highly recommend Brisbane Home Loans.

Christina Perry
We Saved More Than 1% On Our Existing Home Loans
We didn't realize how important it was to review our home load until we engaged with Daniel and Jordan at Brisbane Home Loans. They helped in submitting our application which resulted in a saving of over 1% in interest on our loans, plus a reduction in our on going bank fees. I would recommend this business and thank Daniel and Jordan for making the process so easy.

Sam and Nicky
It was Our First Home and We had No Idea. Thanks to The Team From Brisbane Home Loans
Daniel and the team at Brisbane Home Loans were super helpful and friendly to me as it was my first home loan and I had no idea! They answered all my questions and were very hardworking. Would definitely recommend to a friend.

Tom Harvey
They Made Buying Our First Home Easy and Fun. Thanks
The team at Brisbane Home loans have been super helpful and extremely professional to assist us with all our first home questions.
will be recommending them to everyone I know looking to buy!

Nathan Cook
Thanks for Helping me Turn my Dream into a Reality
Service was great, very informative and kept me up to date on all progress and all steps. Follow up after it was all done and dusted was also great. Took the stress out of it which was a great help for my busy life. I would totally recommend Dan and Jordan to anyone.
Thanks for helping me get my dream into a reality.

Emma Schefe
Car Loan Approved In Less Than 3 Hours – So Wrapped
I could not believe how quickly Jordan was able to organise my car loan. He was so helpfull and I am truly greatfull.

Dan Mutters