We've seen a massive increase in the number of home builders this past financial year. With schemes like HomeBuilder and FHLDS, Brisbane aspiring home owners have been taking their chance to build their first home!
If you have been thinking about building your first home, take a look at our guide to getting started.
1) Organise Your Finance & Budget

Building a home is likely to be one of the biggest financial decisions of your life, so it pays to do your homework!
You should get in touch with a mortgage broker to help you establish your home loan borrowing capacity and potentially obtain a finance pre-approval from a suitable lender.
Use the contact form on this page, and one of our trusted specialists from Brisbane Home Loans will call you to discuss everything you need to know and set up a plan for your build.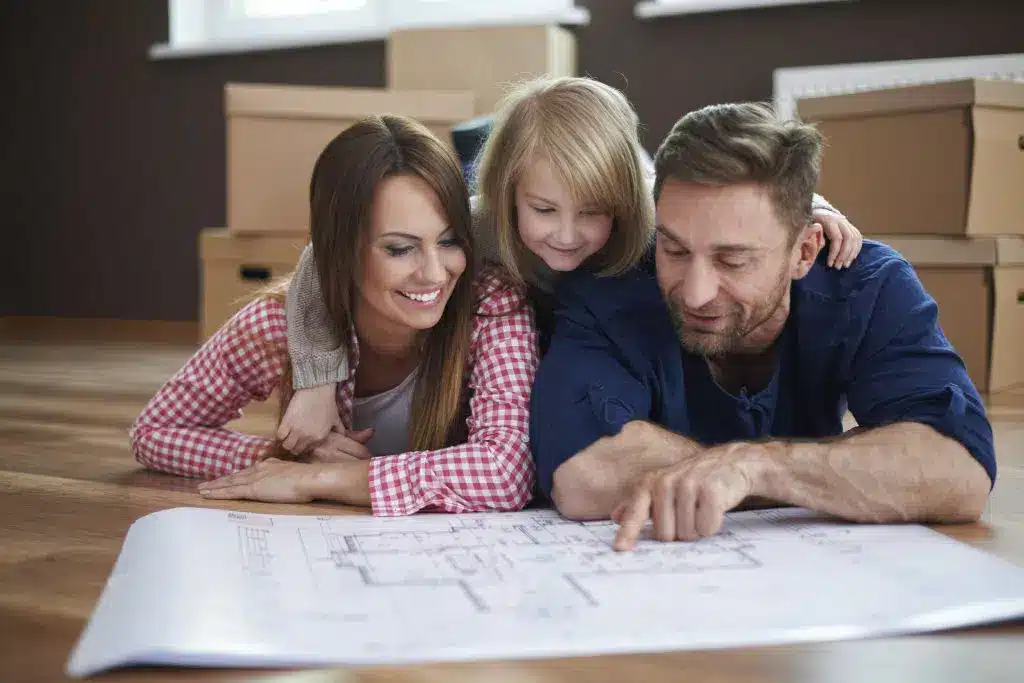 2) Choose Your Builder

Like we said, building your home is a major financial decision, so it is important to make sure that you choose a quality, experienced and reliable builder.
Make sure to choose a builder, or building company, with good customer reviews and longevity. There are builders who specialize in certain types of builds, i.e., house and land packages, which you may want to consider as well.
3) Choose Your Location

Some important things to consider when you are deciding where you want to build your home include:
What facilities do you need to be nearby? (i.e., schools, shops, workplaces, doctors' offices, etc.)
What kind of area will best suit you and/or your family's lifestyle?
Are you going to build in a new estate or an established area?
Once you have chosen the perfect location, you should get in touch with a house and land specialist who will assist you with locating a quality a block of land on a suitable site.
Working with a builder that specializes in house and land packages means they are able to work closely with land developers and leverage their buying power to secure better locations at a better price.
4) Secure Your Land

It is important to secure the right block of land as it can have an influence on important aspects of your build, like positioning, site works, design and cost.
You and your builder will work together to secure a block of land that is suitable to build on, and avoid any problems such as improper soil and sloping.
5) Choose Your Home Design

There are so many home designs on offer, that it can be hard to make the right decision.
You will want to choose a design that suits your current and future lifestyle needs. A good design is functional, energy-efficient, and not overly complicated. Although it is great to be unique in your design, be sure no to make it impractical as it could be harder to sell later down the track.
Display homes are a really good way to get an idea of what you're looking for. Remember to take photos and take note of the furniture details so you can come back to them. Another great way to get inspired is to create a mood board. You can continue to add your ideas and favourite items as you find them and displaying your mood board where you can see it every day is a great way to stay focused on your dream.
6) Sign Your Contract

Before you sign ANYTHING you should seek the advice of a solicitor. They will read over the contract and make sure everything is in order and there are no nasty surprises. The team at A.L.F Lawyers specialize in property conveyancing and can help you go over everything you need to know before committing.
7) Prepare, Monitor and Inspect

Preparation of your block, also referred to as 'siteworks', includes things like flattening, levelling and stabilizing the land.
If you're managing the building process yourself, you will be liable to cover these costs, so you should ensure you have budgeted accordingly. However, if you have decided to go with a house and land package, the siteworks are usually included.
It is important that you monitor the progress of your build to ensure that the necessary milestones are being met and raise any issues with your builder.
At the final inspection, you must make sure you check your home thoroughly for any defects. It may be a good idea to engage a professional building inspector to perform the final check to make sure you are completely at ease of mind and have legal protection.
If you are happy with the condition of your home, you will receive a certificate of practical completion, along with any other relevant documents.
8) Collect Your Keys

The most exciting part of the journey! Moving into your brand-new home and making it your own is all the fun! Don't forget to share your milestones on social media and mention all the amazing people and companies that helped you along the way!